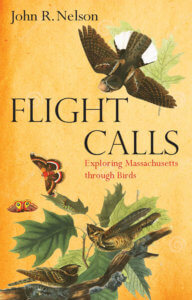 A history of the Brookline Bird Club and stories of BBC field trips are among the explorations in John Nelson's Flight Calls: Exploring Massachusetts through Birds, just published by the University of Massachusetts Press. John blends personal field experiences, history, literature, recent scientific research, and humor as he takes readers in search of birds to Cape Ann, the Great Marsh, Mt. Auburn Cemetery, Cape Cod, Quabbin Reservoir, Mt. Wachusett, and other Massachusetts destinations. The final chapter focuses on bird conservation and the prospects for Massachusetts birds.
As a sample of Flight Calls, here are the opening paragraphs from Chapter 12, "For Birds and People: The Brookline Bird Club":
In June 1913 thirty bird-lovers gathered at the Brookline Public Library to found the Brookline Bird Club in order to "study, observe, and protect native song birds and to encourage their propagation." A front-page Brookline Chronicle story reported that the club was formed "to study the 'little brothers of the air,' arouse a sentiment for their preservation, arrange free lectures for the people, and plan other ways of education in bird life." The BBC wrote a constitution and set annual dues at fifty cents, twenty-five cents for "juniors"–boys and girls under fourteen but "old enough to go alone on street cars." A highlight of club field trips that fall was a Hooded Warbler in breeding plumage at the Boston Public Garden. A 1913 Boston Globe photo showed a BBC group at Chestnut Hill: men in suits and ties, women in plume-less hats and bulky ankle-length dresses, and one junior birder with a tam o' shanter in the front row.

Its tradition of nature study made Massachusetts fertile habitat for one of the country's first bird clubs. In 1818 the state had passed the nation's first law protecting some songbirds ("non-game" birds) from shooting. Roger Tory Peterson considered Massachusetts the cradle of American ornithology, for in 1873 the Nuttall Ornithological Club had been founded in Cambridge, and from Nuttall emerged the American Ornithologists' Union. The Massachusetts Audubon Society was established in 1896 to fight against the plume trade. The Brookline Chronicle, with a little hometown bias, boasted in 1916 that Brookline was "probably the center of bird interest in the United States." The town had its own bird warden, outlawed the use of firearms or traps to kill or catch birds, and by 1915 it was supporting 150 bird-feeding stations. After winter storms American Crows would trail the grain-distributing sleigh from stop to stop.

One might envision the club's progenitors as whiskered good old Yankee boys, but in fact the Founding Fathers were mostly Founding Mothers. The prime mover was a woman, Mary Moore Kaan, as was the first trip leader, Edith Andrews, and eight of the first eleven directors. Recreational birding opens a window into a period when American women, at least those with leisure time, were determined to get out into the world and become more active physically as well as intellectually and politically. They rode bicycles, went camping, danced more freely, and began to wear less restrictive clothing. Better, more affordable "opera glasses" brought more women into birding. Florence Merriam Bailey joined other Smith College girls on "bird rambles" and went on to write A-Birding on a Bronco and Birds through an Opera Glass. Field guide author Frank Chapman felt "astonishment, joy, and chagrin" when his bride Fannie mastered the art of bird-skinning on their Florida honeymoon. In 1902 teacher Nell Harrison wrote indignantly about women's exclusion from scientific egg collecting: "Men can go freely into the fields and follow the birds everywhere, while fashion and conventionality debar women from the same privilege." Professional ornithology remained a predominantly male domain, and some ornithological clubs barred women into the 1970s, but in 1901 Bailey, Mabel Osgood Wright, and Olive Thorne Miller became the first women elected to the American Ornithologists' Union, and two decades later Grace Snow became the BBC's ornithologist. . .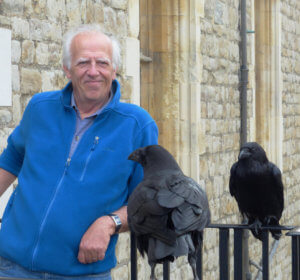 John Nelson is a longtime director of the BBC and chairs the club's Conservation and Education Committee. In 2016 he organized the Association of Massachusetts Bird Clubs, and he also serves as a director of the New England journal Bird Observer and the Essex County Ornithological Club. A professor emeritus at North Shore Community College, John has published widely in both literary and birding magazines, most recently "Raven Knowledge" in the Autumn 2018 issue of The Gettysburg Review, and he was awarded a 2018 Pushcart Prize for his essay "Funny Bird Sex" in The Antioch Review.