The club holds three meetings each year, open to members and non-members. One meeting takes place in the fall, and one in the winter. The annual meeting is held each year in the spring, with elections by members of officers and directors. Each meeting includes a social hour beforehand, club announcements, and a key speaker who shares their expertise and experiences, followed by a Q&A session.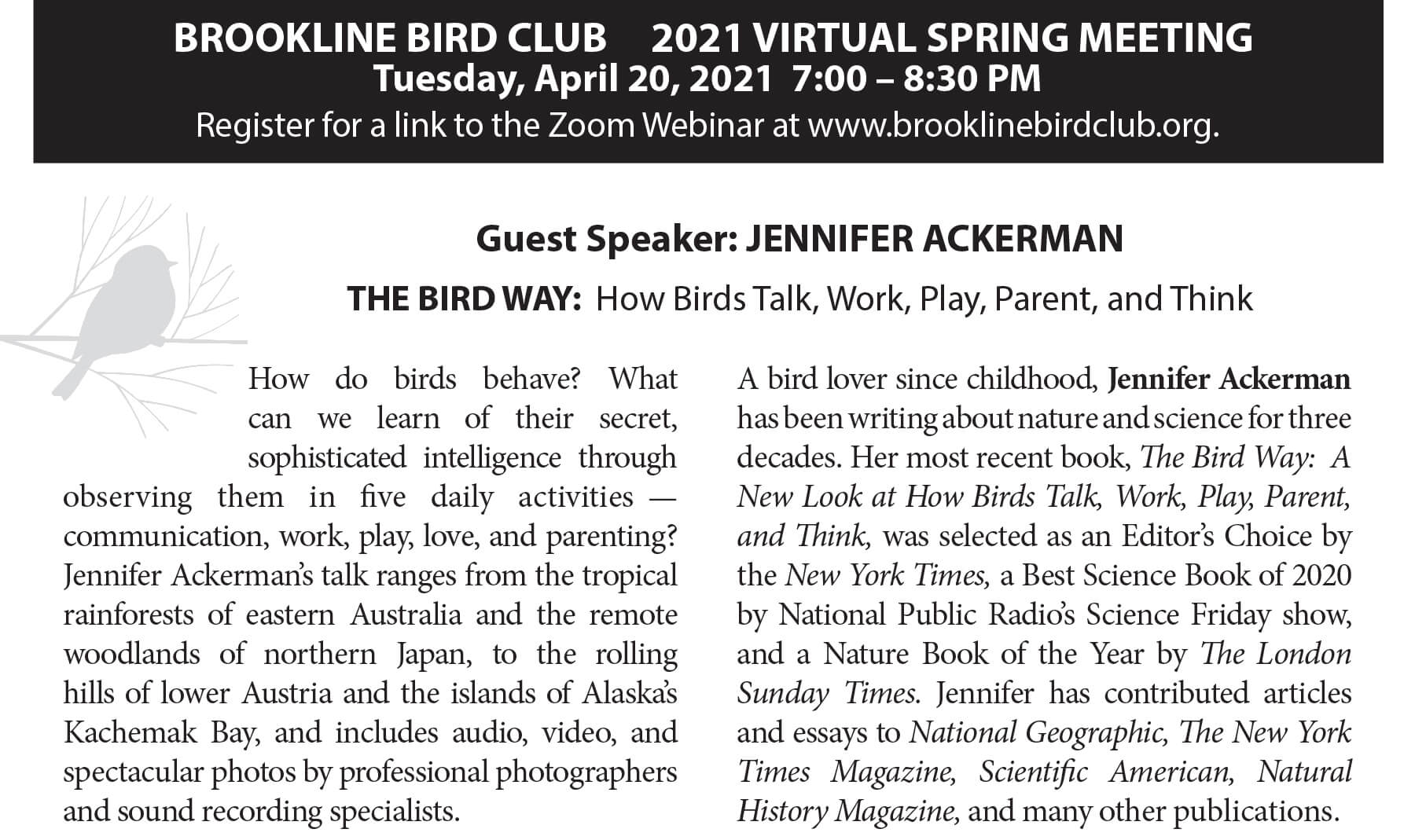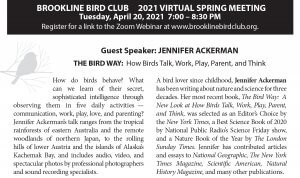 The club prides itself on responding to the needs of its members by offering meetings, workshops and meetings about birds and their habitats. All events are advertised a few weeks in advance by email, USPS mail (postcard), the BBC website and Facebook page. Announcements are also included in the club's publication: Brookline Bird Club Bulletin also widely known as The Blue Book. Members-only workshops and webinars are advertised to members by email.
Workshops are typically held in-person, with a social hour beforehand, followed by an engaging and informative presentation and Question-and-answer session afterward.  
However, the pandemic necessitated health precautions and social distancing, and the club began offering on-line (Zoom) meetings, webinars, and workshops. These workshops offer a wide range of topics, from warbler identification and song, to gulls, sparrows, and shorebirds. Additional topics include planting native to appropriately support wildlife, feeding winter birds, Winter Crow roosts, migration patterns, outside-New England and international birding, and urban birding. The list goes on! Many presenters have given us permission to post recordings of their presentations on our website, in the "Members" section, another reason to join and maintain your BBC membership. 
As the pandemic winds down, and restriction ease, we hope and expect to resume live meetings.
Reminder: Zoom webinars and workshops are the two ways the club presents to its audience. A standard Zoom meeting [workshop] is fully interactive and allows all participants the ability to see, speak, hear, and occasionally screen-share with each other. A Zoom webinar is a view-only platform where the attendees can see only the presenter, the host and the presentation. Attendees cannot see each other, and the Host cannot see the attendees. The zoom presentation type is chosen by the presenter. In both cases, participants have the option to text chat to communicate comments or questions.
A Zoom webinar allows for 100- 500 attendees, while a Zoom meeting [workshop] is typically a third of that, or 20-50 attendees.