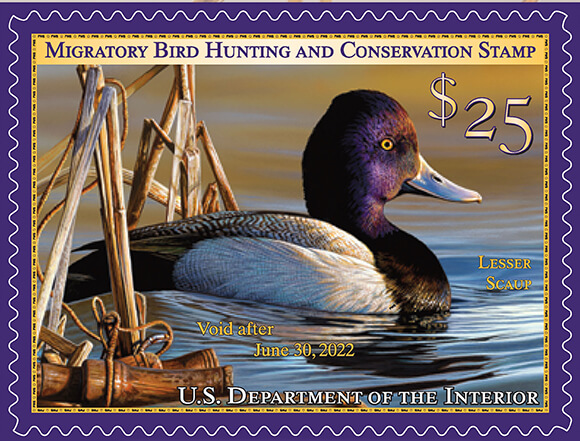 Support National Wildlife Refuges through Duck Stamps.
You can now purchase your Stamp through the Brookline Bird Club. We also have Brookline Bird Club Duck Stamp holders/keychains available for sale.
The current Stamp is valid from July 1, 2021 – June 30, 2022. Entrance to any national wildlife refuge in the United States is FREE when you show your Stamp.
As birders, we treasure our birding visits to national wildlife refuges locally and nationally. Of the 32 refuges in New England, 11 are in Massachusetts, including Parker River, Monomoy, Great Meadows, Oxbow, and Assabet River. By purchasing a Federal Migratory Bird Hunting and Conservation Stamp each year, often referred to as the Duck Stamp, we contribute to the purchase or leasing of newly protected lands.
Since 1934, sales of the Stamp have generated more than $1.1 billion to protect over 6 million acres of wetlands habitat on national wildlife refutes around the nation.  For every dollar you spend on Stamps, ninety-eight cents goes directly to protecting vital wetland habitat as part of the National Wildlife Refuge System. Your Stamp will also provide admission to refuges charging entrance fees, such as Parker River. With our large membership, purchasing a $25 Stamp can make a significant contribution to the continued protectio