The Brookline Bird Club: 1988-2013
The close of 1988 found the Brookline Bird Club on the brink of the Information Age. In the last decade of the 20th century, environmental concerns challenged members to redouble conservation efforts. At the same time, technological advances rewrote the rules for organizing trips and sharing reports.
Citizen's Band radios kept cars together on BBC trips and helped solo birders. At birding hotspots like Plum Island, Gloucester, or Cumberland Farm fields, a member could put a call out about a sighting and, more often than not, another BBC member would respond looking for information. The last update of the BBC C.B. Radio List, in January 2002, included the handles (call signs) of 196 participants. Handles sometimes reflected the owner's profession (such as Bank Swallow for Joe Paluzzi and Golden Crown for dentist Irving Romanow) or name (Chris and Judy Hepburn's Rosy Finch came from the "Hepburn's" form of the Gray-crowned Rosy Finch).
The club's telephone hotline alerted the club's avid listers to local rarities. Sabrina Hepburn recalls answering phone calls during dinner on a Friday or Saturday night and hearing 'I've got a BBC hotline report.'" Periodically, the caller accidentally omitted some critical turn or instruction during this game of 'Telephone,' leading to "much cursing" when recipients tried finding the bird, but, like many BBC birders of the time, Sabrina feels that she owes "more than a few" life birds to the service.
A typical hotline situation occurred on January 10, 1992. Joseph Mann of East Gloucester put out some raisins for cardinals atop a Hav-A-Hart trap in his yard, and attracted a Yellow- breasted Chat. Mann invited Jerry Soucy and Judge Lawrence Jodrey to share the sighting and told Soucy he could tell anyone he wanted. Before the day ended, a "parade of birders" began. Thanks to the BBC Hotline, over 300 people saw the chat. Stan Bolton, who visited several times, got Mann to join the BBC. Wrote Mann, "Jerry Soucy had given me information before but I never realized all the great people and great birding I would enjoy with the club, not to mention all the lifers I've seen since joining." (Mann 1992).
Brookline Bird Club directors took public relations seriously. Blue Books had included a statement emphasizing respect for private property since the 1960s. The club created a birding etiquette committee in 1991 and published its own Code of Ethics, adopted from the ABA code of ethics, to address concerns over birder behavior, particularly when in pursuit of rarities. The code included tenets such as "Birders must always act in ways that do not endanger the welfare of birds or other wildlife," "Birders must always respect the rights of others," and "Birders in groups should assume special responsibilities."
While members enjoyed expanding their lists, they were also passionate about conservation. Meeting minutes reflect a longstanding debate about the club's primary purpose. Board member Alden Clayton wrote to the board in April 1990 after another director suggested that the primary mission of the club was leading field trips. "In this time of environmental crisis, I feel that we should all, singly and collectively, do what we can to support, in a variety of ways, worthy causes and help build public awareness about environmental issues," Clayton concluded. "I believe that any retrogression to a narrow focus for the BBC would be unfortunate." (Clayton, 1990.)
Throughout the decade, BBC partnered with other organizations to leverage its bird conservation efforts. BBC co-sponsored Manomet Bird Observatory presentations on arctic shorebirds and Belizian waterbirds in 1989 and 1990. The club then joined the MBO/Mass Birders Forum, a cooperative effort of MBO and 18 Massachusetts bird clubs to help protect threatened birds and their habitats throughout the Western hemisphere. The Forum's first project was a drive to collect used binoculars, spotting scopes, and tripods for field biologists and grassroots conservation organizations in Latin America, where a lack of basic equipment frustrated research and conservation efforts. The Mass Birders Forum became what is now Birders' Exchange with the help of Betty Petersen, then working at MBO, and volunteers including Tod Highsmith, Sarah Whittum, and Bob Stymeist. The MBO formalized the program with a paid staff, and then moved it to the American Birding Association in 2000. Betty presented the BBC with an ABA/BEX commendation award, thanking Barbara Volkle and others who coordinated donation collections and commending club members who donated optics and books.
BBC members were among the most active of Parker River National Wildlife Refuge volunteers, with several contributing more than 100 hours of service during 1989 on projects ranging from tern warden duty to lead shot sampling.
Club members and officers followed environmental legislation at the state and local levels. In 1990, Barbara Howell testified before the Committee on Natural Resources in support of the Massachusetts River Protection Act.
"Despite having to inform the committee that the Governor was not a member of the Brookline Bird Club, Barbara's testimony was well received," noted president Stephen Moore in a letter to officers and directors. (Moore. 1990.) Barbara Howell succeeded Steve to become the club's first woman president.
Individual club members made significant contributions to education at the state and national levels. The club nominated Paul Roberts for the Audubon "A" award from the Massachusetts Audubon Society and Bob Campbell for Massachusetts Audubon's Conservation Teacher of the year. Mark Blazis was named Nature Educator of the Year in 1993 by the Roger Tory Peterson Institute of Natural History. Mark's students at Auburn Middle School produced field guides to the birds, trees, butterflies, reptiles, and amphibians of southern Worcester county.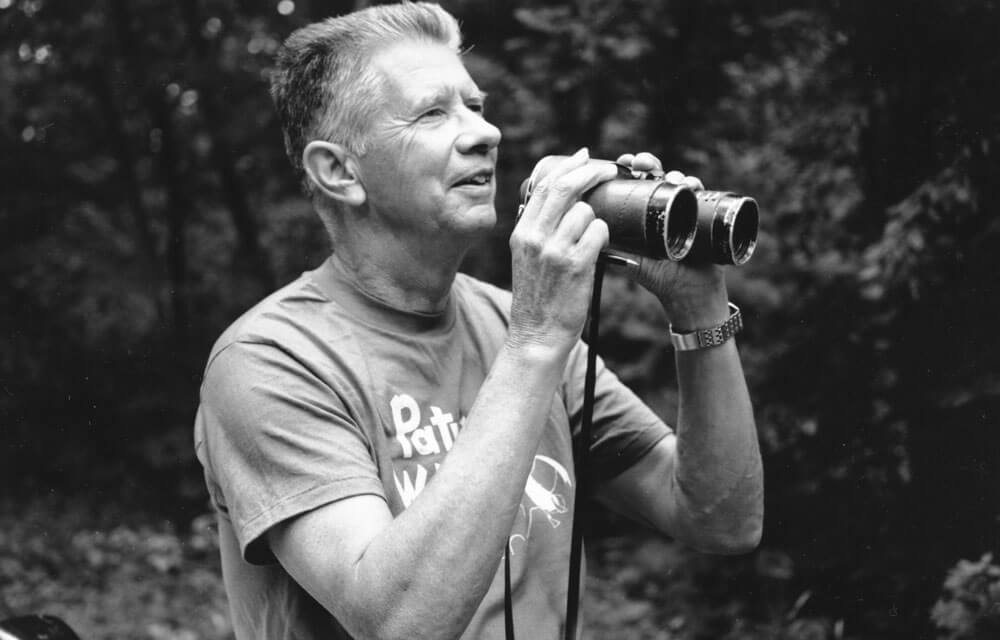 On Oct 23, 1991 the Conservation Committee was revived to further the club's conservation efforts through coordinated initiatives in education, legislation, censusing, and volunteerism. Spring 1992 projects initiated by the committee were an Ipswich River Wildlife Sanctuary breeding bird census and a bird walk for children at Great Meadows. Trip leader Sabrina Hepburn remembers one Great Meadows walk where most of a troop of Boy Scouts showed up, working on their birdwatching badge. "It must have been one of the first warm days of the spring, and everywhere you looked there were Northern water snakes sunning themselves up and down the edge of the causeway. It was almost impossible to bring the attention of the boys back to birds once they started spotting and chasing snakes, but it was a great nature experience, so I still chalked it up as a win." (Hepburn, 2013)
In 1991 the club suffered two significant losses. Ruth P. Emery, who was active in Bird Observer and served as the original Voice of Audubon, passed away at 93. Ruth and Margaret Argue had been elected the first women members of the Nuttall Ornithological Club in 1974.
Mary McCarthy, long time resident and teacher in Watertown who led many BBC trips in Mount Auburn, passed away and left a gift to the club that enabled the purchase of a computer to manage the membership database.
By 1994, club membership was booming. Of over 1300 members, 170 were from states other than MA. Heading the list was NH with 44, next was 27 in CT and 22 in NY, 17 in RI. Nine members lived in Maine, five in Vermont and Virginia, and four in Ohio, California and Michigan. There were also 1, 2, or 3 members in 16 other states. That year, the club set up an electronic mail branch of the rare bird alert hotline to supplement the phone hotline. In May 1996, the email hotline had 130 addresses and Barbara Volkle asked for volunteers to transcribe the rare bird alerts onto the club web page. Barbara also started MASSBIRD, a mailing list dedicated to the interchange of wild bird and birding information relevant to Massachusetts and New England. MASSBIRD was not a BBC club project, but soon became a popular tool for sharing trip reports and publicizing impromptu trips.
As the club grew, it expanded its contributions to conservation and education. In 1994, annual dues rose to $10, enabling the club to donate $200 to the Crane Reservation for Piping Plover and Least Tern protection, and $300 to Great Meadows N.W.R. toward the purchase of a harvester to control the growth of algae and water chestnuts, an aquatic weed. The BBC co- sponsored the 6th annual Birder's Meeting Nov 19, 1994 with Massachusetts Audubon. Perhaps the most significant investment for the club that year was the purchase of a cassette player, projector, 40X40 screen and "Familiar Eastern Birds," a set of slides from VIREO (Visual Resources for Ornithology), a photograph collection of The Academy of Natural Sciences. The Conservation Committee used the equipment to create presentations about bird behavior and identification for elementary schools and conservation groups. Starting in 1995, the club also developed identification workshops for members on spring warblers, fall sparrows, and waterfowl. The workshops, which consist of a classroom lecture followed by a field trip to practice ID skills, remain a popular offering in current Blue Books.
The Conservation Committee started a School Library Book fund in 1996. With the club matching a percentage of member contributions, John Melithoniotes delivered $470.00 of bird books (about 50 books) to the Roger Clapp elementary school in Boston in 1997, and another 35 bird books, CDs, and videos to the Perry school in 1998.
In March 1996, the Board approved a club web page on an experimental basis, stipulating that the trip listing include email addresses for most listing and avoid posting leader names or phone numbers unless authorized. After directors voiced concerns that membership would plummet when the trip listings became available online for free, the club decided to list Limited Participation trips in the printed Blue Book only.
"Raptor Heaven in 1997" was the apt title of statistician Bob Stymeist's annual report that year. A highlight was a Boreal Owl that took up residence in the Back Bay from Nov 22 1996 through February 13, 1997. "Any errand to downtown became a pleasure with this reliable reward thrown in," one member wrote. Notable sightings also included Black Vultures on the Dartmouth/Westport town line at a turkey vulture roost, Mississippi Kites in Rowley and Orleans, and a light-phase Swainson's Hawk in West Newbury. The year's most significant weather event was a devastating April storm broke many trees in Mount Auburn Cemetery; the club donated $500 toward tree cleanup. In a reference to the flagging economy, two members reported that their best birding experience of the year was "getting laid off in May." On a more somber note, the statistician's report noted the deaths of Skip Charette, Nancy Clayton, Jean Foley, Dick Forster, Josh Nove, Phil Parsons, and Nancy Powell: "They left the world diminished by their passing." (Stymeist, 1997)
Glenn d'Entremont, who became club president in 1997, stressed energy awareness in Blue Book letters to members. "We, as Americans, consume 80 percent of the earth's resources. We should be constantly monitoring our own consumption," he wrote. d'Entremont urged members to design walks for public transportation users. The next president was Ida Giriunas, followed by Robert Petersen, and Linda Ferraresso. (d'Entremont, 1997.)
1998 featured the first weekend trip to Rangeley Lakes "to concentrate on Maine's boreal specialties, including moderate hiking and canoeing." Two Massachusetts trips were extended into the Granite State that year, to see a Varied Thrush just over the border and the Little Egret in Newmarket. On March 1, BBC trip participants viewed a Bullock's Oriole in Reading at the feeder of Donna Schromm, who joined the BBC and served as Membership secretary from 2001- 2004.
The club continued to leverage new technology. Whale watching trips were scheduled on the fly on the first weekend day before or after a Noreaster and announced through the BBC phone and email hotlines and on MASSBIRD. The first BBC trip leaders to use Family Radio Service (FRS) radios were Fay and Peter Vale, who shared sightings when splitting large groups in Mount Auburn and Ipswich River Sanctuary. On the second Rangeley trip, in 1999, Mark Burns and Steve Leonard each brought a new FRS radio, without knowing that the other had one. "We used them on the hike up Mount Blue, the day we got the Three-toed Woodpecker," trip leader Eddie Giles recalls. Steve chose channel 10/33 (the address of a former apartment), which became the club channel until the Board voted to adopt the national FRS channel of 11/22. Notes Giles, "I was on the Board at the time and recall fighting to keep 10/33 in memory of Steve," who had passed away by then. "We still use 10/33 on my Rangeley trips," he adds. (Giles, 2013.)
Other members and former members associate the club with successful "chases." After moving to California, Alison Kent painted a portrait of the birding community, writing "In Praise of Massachusetts Birders" for the Blue Book. "As I write, seventy miles to my west is a bird that is a probable first for the Western hemisphere, a Greater Sandplover. […] In Massachussetts, a bird of this rarity would immediately have prompted two well-organized chases on consecutive weekend days, the call would have gone out on MASSBIRD and by phone telling people where to meet, what to expect, and what books to study, and there would have been at least 200 people from the Brookline Bird Club alone," Kent speculated. "Following the 'see the bird first, ask questions later' rule, everyone, including beginners, would have been urged to come along." She concluded, "Tomorrow's leaders are today's beginners. How we talk to them and respond to their reports determines whether they will join this community or not." (Kent, 19XX)
The BBC did encourage beginners, particularly young ones. John Mittermeier describes being introduced to the Brookline Bird Club in 1999 as a seventh grader by Peter Alden. "Before long I was tagging along on BBC trips across the state: I saw my first Bald Eagle off the chain bridge near Newburyport with Peter, took a winter BBC trip to Gloucester with Linda Ferraresso, visited the Fenway Victory Gardens with Bob Stymeist when he found a MacGillivray's Warbler and a Yellow-breasted Chat (Bob seemed surprised at the time that I was far more excited about the chat) and traveled to various corners of the state with Wayne Petersen, Simon Perkins, Marj Rines and others."
Like many a new birder, John "worked through every page of the BBC's blue outing booklet that year, folding corners and circling and highlighting trips that looked interesting." He called or emailed the trip organizer, and "invariably they would be able to pick me up and give me a ride or know someone else going who could." By the time spring rolled around, he was a fully committed Massachusetts birder biking over to Mount Auburn Cemetery every morning to join BBC trips before school.
In this case, the club actually helped to cultivate a professional ornithologist. "Thirteen years later, I am now a graduate student in ornithology working with Robb Brumfield at the Louisiana State University Museum of Natural Science in Baton Rouge," writes Mittermeier. "My interests in birds and birding are still strong: I spent this past summer in Indonesia conducting bird surveys on Pulau Obi, a remote island in the Northern Moluccas of eastern Indonesia. Our work on Obi resulted in 14 new records for the island, including a four-inch long pygmy parrot that may be an undescribed species and resulted in some of the first photographs of the enigmatic Moluccan Woodcock. Over the next few years, I am hoping to continue my PhD research on island biogeography, speciation and conservation of birds in eastern Indonesia and develop this into a career in ornithology after graduation."
He concludes, "Had it not been for the my early membership in the BBC and the exceptional generosity of Massachusetts birders in introducing me to birding, giving me rides to Plum Island, Gloucester, Quabbin Reservoir and others, and always encouraging my growing interest, I would not be where I am today." (Mittermeier, 2013.)
A new generation finds the same support from current club members and leaders. Young birder Benjamin Peters notes that, "Every meeting and every trip I learn something new. Even though I've been a BBC member for only a year, I really enjoy the club and everything it does for birding in our area." Asked about leaders who inspire him, he cites a May 5, 2012 trip where Dave Hursch "managed to get the Kentucky Warbler in the scope for everyone to see."
Jeremiah Sullivan enthuses about his own experience. "I've been birding with the Brookline Bird Club for just over three years; in that time I've acquired many fond birding memories. Even on the first day at Dunback Meadow in Lexington, I knew this was something I wanted to do." He cites the support of his father and leaders like Eddie Giles, "dogged in his pursuit of the Spruce Grouse and making sure I saw it," Paul Ippolito, "when he realized a Ruffed Grouse would be a lifer for me, driving backwards on a narrow, dirt road so I could get out and see it," and Marj Rines, who "helped build my early skills up so much by directing me to challenging programs, directing me to good birding locales and never allowing my young age to be a hindrance or keep me from participating in programs geared to adults."
As the year 2000 approached, the media fanned fears that data storage where the year was represented with two digits could cause date-related processing to malfunction. The statistician's report noted that birders were undaunted by the hype over "Y2K." "Most of us ignored the warnings of the year, shut off our computers and went to bed early to start a New Year of birding," wrote Bob Stymeist. (Stymeist, 2001.)
What a year it was! An all-time high of 290 club trips were scheduled in 2000: 73 all- day, 180 morning, 31 afternoon or evening, and six weekend trips. Eighty leaders guided club members. Among them was Helen Wilber Bailey, who led her 3rd annual weekend trip to Nantucket for Oldsquaw flights, inspired by a February 1987 Bird Observer article describing the flights at dawn and dusk of 100,000+ birds. The year 2000 also saw a dramatic increase in the number of pelagic trips, scheduled primarily through the efforts of Emmalee Tarry. A total of 13 pelagic trips were listed, including three dedicated charters, one to the far offshore area of Cashes Ledge. Other trips were whale watches from Newburyport, Gloucester, Plymouth, Barnstable, and Provincetown. On October 16, the club celebrated and acknowledged all its leaders at a Leader Appreciation Day at Wompatuck State Park in Hingham, that featured a barbecue and delicious desserts.
The biggest trip list of 2001 was Bill Drummond's May 19 Newburyport trip, which reported 122 species. Bill commented that it was a poor migration day and that the group had to work hard for every species, but nonetheless they recorded a late Snow Goose, a Ruff and a Reeve at the salt panes on Plum Island, a "grand slam" on all of the swallows, and 17 species of warblers. (Stymeist, 2001.) On November 25, Jonathan Center extended his own Newburyport trip to Cape Neddick, Ma