by Garry and Annie Kessler, Westborough, MA
The BBC has run 4-day trips to Downeast Maine around July 4th for many years. The main attraction is an opportunity to land on Machias Seal Island for up close and personal looks at Atlantic puffins and other seabirds that nest on the island. The trip is not limited to offshore birding, however, and other days are dedicated to inland birding looking for boreal species like Spruce Grouse and Black-backed Woodpecker.
This year was our third trip north with the group. The group meets at Gilsland Audubon Sanctuary early the first day where they were treated to looks at Little Egret and then proceeded north for Purple Martin and Black Tern at Lake Messalonskee. We skipped these stops this year as the fields at Gilsland are too much for my hayfever, and met the group at their lunch stop in Eddington, ME before proceeding farther north for Upland Sandpiper in the blueberry barrens of Dublois. The day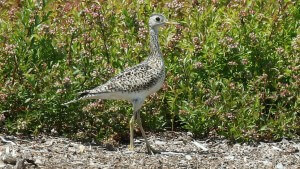 culminated with arriving at the Bluebird Motel in Machias and later dinner with the group. There are few places for dinner in Machias that accomodate groups of 15-20 but we found Helen's to be our preferred establishment.
Day two starts early with a longish drive inland to Topsfield for boreal species. Spruce Grouse has been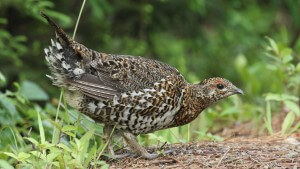 the most reliable on our trips, but the area is also filled with Black-throated Green, Magnolia, Canada, and Black-and-White Warblers, to name a few, and Yellow-bellied and Olive-sided Flycatchers. We've also found Boreal Chickadee, Gray Jay and Black-backed Woodpecker in the past, but these have been more difficult to see the last couple years.
The area also has some non-avian treats. Deep in the area is a large bog complete with bog orchids
in flower and habitat specializing butterflies like the bog copper. Fields contain numerous butterfly species, some of which are uncommon in Massachusetts, like the colorful Harris' checkerspot. We've seen moose, snowshoe hare and successfully avoided the black bears.
This year day 3 was puffin day. Historically the first week of July has provided an excellent chance of landing on the island and this year was no exception. Access to the island is limited to 30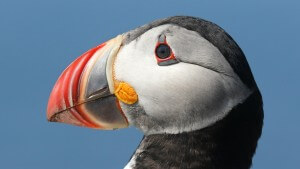 visitors a day with permits divided between a Canadian tour boat and our US-based tour boat run by Bold Coast Charter. The trip takes about an hour to make the 10 mile or so journey. Early July is chick rearing season with Puffins, Razorbills, Common Murres and Arctic Terns all bringing fish home for the myriad hungry mouths back on the island.
We spent about an hour in the blinds. During this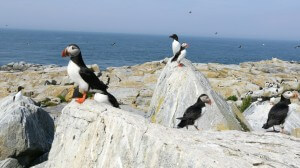 time Puffins and Razorbills are all around us. We hear them flying in and landing on our roof and the thump, thump, thump as they toddle across the top of the blind. We see them walking up to the windows and looking in at the strange caged primates brought in for daily entertainment. At times they are so close we could reach out and touch them – highly unrecommended if you value your fingers. When not in the blinds, we sat out on the patio and watched the terns feeding their chicks on the lawn a few feet away. On a patio the terns left us alone, but if we left the patio we carried sticks above our heads to avoid getting dive bombed as they protected their nestlings.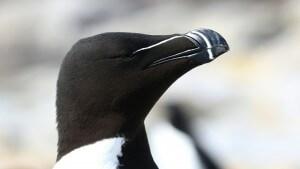 That afternoon we went to West Quoddy State Park. West Quoddy offers more opportunities for boreal birds, although what we found was mostly more warblers like the Black-throated Green, who seem to have their own song dialect here. There's also a nice crowberry bog with a variety of specialized flora including carnivorous species, like pitcher plants and sundews. We also got a flyby from a crowberry blue butterfly. It's a crowberry bog specialist only found in a few Downeast locations. That evening we supped in Lubec, perhaps one of most scenic spots Downeast.
Our last day we birded various local spots along the coast beginning with a short stop on the Sunrise trail in Machias with good looks at Nelson's Sparrow, found a Hermit Thrush collecting food on Birch Point Road, and walked trails in Roque Bluffs State Park. We finished the day at Great Waas Island Preserve one of many scenic locations along Maine's rocky coast.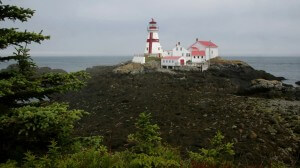 For those with some extra free time, Campobello Island, known for the Roosevelt family compound, is just across the channel. Farther out Passamaquoddy Bay is the scenic Head Harbor Lightstation which can only be reached at low tide. Generally the tides in the region run 14-16 feet and can quickly turn the lighthouse into its own little island. Remember to bring your passport if you want to visit Campobello,as it's in New Brunswick, Canada.
The BBC Downeast trip is a great introduction to birding in the region as well as a welcome opportunity to escape Boston summer heat. Anyone looking for a holiday weekend getaway should consider the trip Downeast to see the puffin colony up close and personal.
A special thanks to Ida Giriunas and Dave Ely who've organized the these trips for many years.
Highlighted locations below; for complete daily bird lists see: https://www.brooklinebirdclub.org/trip-reports/
---
Gilsland Farm Audubon Center (compiled by David Ely)
47 species total
3 Mallard
6 Wild Turkey
1 Common Loon
1 Double-crested Cormorant
1 Great Blue Heron
1 Little Egret
6 Snowy Egret
2 Osprey
1 Sharp-shinned Hawk
1 Bald Eagle
12 Herring Gull
1 Great Black-backed Gull
1 Mourning Dove
1 Belted Kingfisher
1 Downy Woodpecker
2 Hairy Woodpecker
2 Northern Flicker (Yellow-shafted)
1 Least Flycatcher
1 Eastern Phoebe
2 Eastern Kingbird
1 Warbling Vireo (Eastern)
3 Red-eyed Vireo
6 Blue Jay
2 American Crow
4 Tree Swallow
18 Barn Swallow
7 Black-capped Chickadee
1 Tufted Titmouse
1 House Wren
1 Carolina Wren
1 Eastern Bluebird
4 American Robin
1 Gray Catbird
6 Common Yellowthroat
4 Yellow Warbler
1 Pine Warbler
1 Chipping Sparrow
10 Song Sparrow
4 Northern Cardinal
1 Indigo Bunting
2 Baltimore Oriole
3 Red-winged Blackbird
3 Brown-headed Cowbird
15 Common Grackle
6 House Finch
1 American Goldfinch
35 House Sparrow
https://ebird.org/view/checklist/S47314440
Burn Rd., Topsfield (compiled by David Ely)
43 species total
1 Spruce Grouse
2 Osprey
1 Red-tailed Hawk
1 Yellow-bellied Sapsucker
2 Hairy Woodpecker
3 Northern Flicker
1 Pileated Woodpecker
2 Olive-sided Flycatcher
4 Least Flycatcher
7 Blue-headed Vireo
5 Gray Jay
2 Blue Jay
4 Black-capped Chickadee
13 Red-breasted Nuthatch
1 Brown Creeper
2 Winter Wren
1 Golden-crowned Kinglet
6 Swainson's Thrush
16 Hermit Thrush
1 Wood Thrush
3 American Robin
25 Cedar Waxwing
1 Ovenbird
2 Northern Waterthrush
8 Black-and-white Warbler
1 Nashville Warbler
15 Common Yellowthroat
7 American Redstart
8 Northern Parula
13 Magnolia Warbler
1 Blackburnian Warbler
1 Chestnut-sided Warbler
10 Palm Warbler
7 Pine Warbler
2 Yellow-rumped Warbler (Myrtle)
1 Canada Warbler
2 Wilson's Warbler
1 Chipping Sparrow
3 Dark-eyed Junco (Slate-colored)
18 White-throated Sparrow
1 Common Grackle
1 Purple Finch
3 Red Crossbill
https://ebird.org/view/checklist/S47314521
Cutler Harbor (compiled by David Ely)
14 species total
2 Long-tailed Duck
2 Common Loon
3 Double-crested Cormorant
1 Great Blue Heron
3 Black Guillemot
14 Herring Gull (American)
3 Great Black-backed Gull
12 Rock Pigeon (Feral Pigeon)
1 Belted Kingfisher
1 Blue-headed Vireo
6 American Crow
2 American Robin
2 Common Yellowthroat
1 Song Sparrow
https://ebird.org/view/checklist/S47314573
Machias Seal Island (compiled by David Ely)
13 species total
60 Common Eider
3 Double-crested Cormorant
1 Short-billed Dowitcher
3 Spotted Sandpiper
1 Lesser Yellowlegs
265 Common Murre
2725 Razorbill
2550 Atlantic Puffin
36 Herring Gull
4 Great Black-backed Gull
1 Black Tern
175 Arctic Tern
26 Savannah Sparrow
https://ebird.org/view/checklist/S47314575
West Quoddy Head SP (compiled by David Ely)
31 species total
14 Common Eider
2 Common Loon
1 Double-crested Cormorant
25 Razorbill
4 Black Guillemot
11 Herring Gull (American)
2 Great Black-backed Gull
2 Mourning Dove
2 American Crow
1 Common Raven
1 Tree Swallow
5 Black-capped Chickadee
2 Red-breasted Nuthatch
1 Brown Creeper
2 Winter Wren
2 Golden-crowned Kinglet
7 Hermit Thrush
4 American Robin
1 Black-and-white Warbler
2 Nashville Warbler
2 Common Yellowthroat
2 American Redstart
1 Northern Parula
1 Magnolia Warbler
1 Chestnut-sided Warbler
3 Yellow-rumped Warbler (Myrtle)
7 Black-throated Green Warbler
3 Dark-eyed Junco (Slate-colored)
2 White-throated Sparrow
1 Common Grackle
1 Purple Finch
https://ebird.org/view/checklist/S47314576
Down East Sunrise Trail, Machias (compiled by David Ely)
13 species total
23 Canada Goose
19 American Black Duck
2 Double-crested Cormorant
7 Herring Gull (American)
1 Mourning Dove
7 American Crow
2 Cedar Waxwing
2 Common Yellowthroat
1 Yellow Warbler
6 Nelson's Sparrow
1 Savannah Sparrow
4 Song Sparrow
3 American Goldfinch
https://ebird.org/view/checklist/S47314618
Roque Bluffs SP (compiled by David Ely)
38 species total
16 Common Eider
1 Common Loon
10 Double-crested Cormorant
1 Black Guillemot
42 Laughing Gull
2 Ring-billed Gull
82 Herring Gull
14 Great Black-backed Gull
2 Mourning Dove
2 Belted Kingfisher
1 Hairy Woodpecker
2 Blue-headed Vireo
3 Red-eyed Vireo
4 American Crow
2 Common Raven
6 Black-capped Chickadee
1 Red-breasted Nuthatch
3 Golden-crowned Kinglet
6 Hermit Thrush
1 American Robin
4 Gray Catbird
5 Cedar Waxwing
1 Ovenbird
3 Black-and-white Warbler
6 Common Yellowthroat
4 American Redstart
2 Northern Parula
1 Magnolia Warbler
3 Yellow Warbler
1 Yellow-rumped Warbler (Myrtle)
5 Black-throated Green Warbler
2 White-throated Sparrow
4 Song Sparrow
8 Red-winged Blackbird
1 Brown-headed Cowbird
6 Common Grackle
1 Purple Finch
6 American Goldfinch
https://ebird.org/view/checklist/S47314615
Birch Point Rd., Roque Bluffs (compiled by David Ely)
13 species total
3 Herring Gull
1 Mourning Dove
1 Ruby-throated Hummingbird
1 Northern Flicker (Yellow-shafted)
3 Black-capped Chickadee
1 Hermit Thrush
1 American Redstart
1 Northern Parula
1 Black-throated Green Warbler
1 Dark-eyed Junco (Slate-colored)
1 White-throated Sparrow
1 Purple Finch
2 American Goldfinch
https://ebird.org/view/checklist/S47314616
Great Wass Island Preserve (TNC) (compiled by David Ely)
17 species total
1 Double-crested Cormorant
2 Osprey
1 Herring Gull
1 Blue-headed Vireo
2 American Crow
1 Common Raven
2 Black-capped Chickadee
1 Red-breasted Nuthatch
2 Brown Creeper
1 Golden-crowned Kinglet
1 Black-and-white Warbler
1 Nashville Warbler
3 Common Yellowthroat
1 American Redstart
2 Yellow-rumped Warbler (Myrtle)
2 Black-throated Green Warbler
2 Dark-eyed Junco (Slate-colored)
https://ebird.org/view/checklist/S47314613