This year marked the 20th anniversary of when Nick Samson and Eddie Giles organized the first Brookline Bird Club trip to the offshore shelf edge on a 24 hour Captain John "slowboat" marathon trip out of Plymouth when the club found a White-faced Storm-Petrel. Because of the great success in finding this mega-rarity, the club wanted to continue the trips, but didn't have an appropriate boat. In 2004, Ida Giriunas and Tom Prince found the "Helen H" fishing boat, which was a much faster boat and was based out of Hyannis. Since then, day trips and overnight trips have been run nearly every year with Ida Giriunas as the stalwart organizer and leader before her passing in 2019. I'm sure she was present in spirit for this trip and for all those in the future.
Date – 6:00 AM 8/7/21 (Saturday) to 5:00 PM 8/8/21 (Sunday)
Weather – Incredibly little wind for the entire trip with glassy seas and not much wave height making for incredible photo opportunities. Some residual seas over the shallow, rough waters of Nantucket Shoals knocked out about 5 birders briefly early on Saturday, but things quickly calmed down over the deep waters and for the rest of the trip. Skies were partly to mostly sunny with some morning clouds on Sunday.
Boat – 100′ long "Helen H" fishing boat out of Hyannis, MA. Captained by Joe Huckemeyer
Participants – 52 participants plus 6 leaders
Leaders – Naeem Yusuff, Bobbie Hodson, Marshall Iliff, Steve Mirick, Peter Flood, John Garrett
Route – The Helen H headed south along the east side of Nantucket and along the western edge of the cool, shallow, waters of the Nantucket Shoals before turning straight for Hydrographer Canyon which is along the edge of the continental shelf. Once we got to the shelf edge, we traveled south through the middle of the underwater canyon before turning east toward an adjacent small canyon known as "Dogbody Canyon". We circled back and forth and drifted between these two canyons for the entire trip and then returned with another pass north through Hydrographer before heading home. The deepest water encountered was over 1 mile deep in Hydrographer Canyon. Sea surface temperatures were difficult to gauge due to a broken thermometer, but satellite images showed a very large uniform swath of moderately warm water encompassing the shelf edge from Veatch Canyon east to Oceanographer Canyon and beyond with a lot of warm water spilling over far up onto the shelf. The highest sea surface temperatures were in the range of 75F to 78F.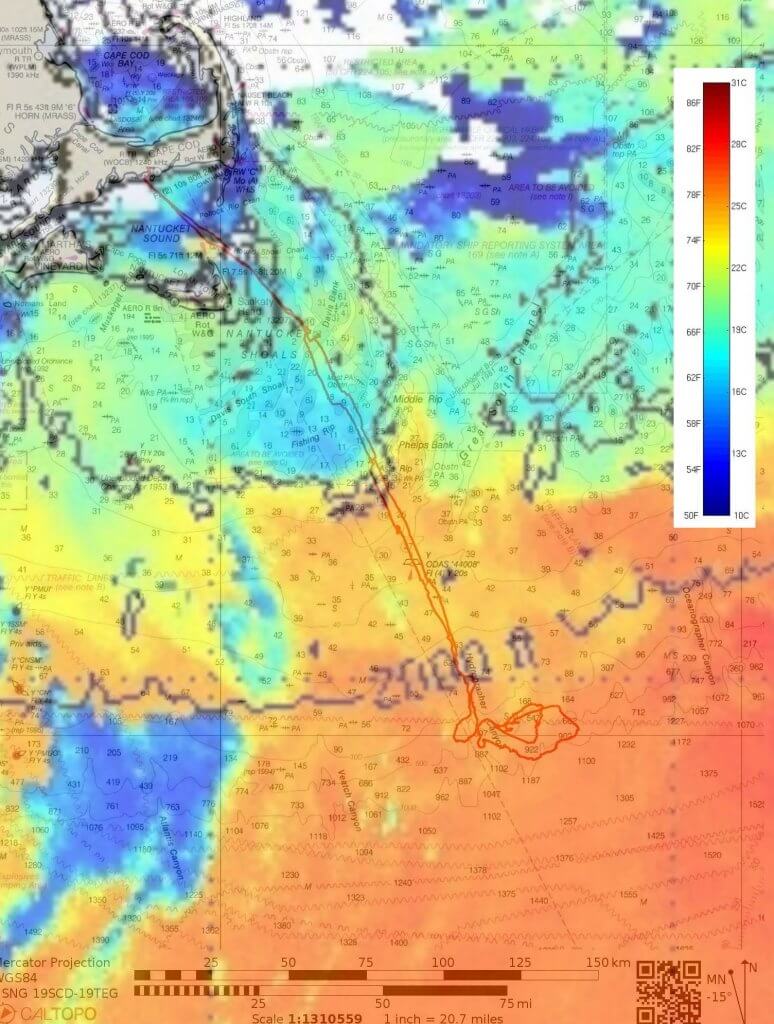 Bird Highlights – Unlike recent trips, mega-rarities were limited, but we managed to get great looks at one of the rarest and most highly sought after birds in the United States, the White-faced Storm-Petrel. The only other rare, specialty bird of the warm offshore shelf-edge waters that we encountered was the Audubon's Shearwater, which has become regular on these trip. It was a bit disappointing not to get Band-rumped Storm-Petrel, but we tried hard for it and they are always irregularly encountered off the MA coast. Aside from rarities, there were many, many, great looks and photo opportunities for most or the "nice" pelagic birds of inshore waters.
The deep warm waters of the shelf edge held large numbers of Wilson's Storm-Petrels, Leach's Storm-Petrels, and Audubon's Shearwaters, but only a very small number of Great Shearwaters and almost no Cory's Shearwaters. With the calm winds, the storm-petrels were rafting on the water in many small to medium sized flocks, and we aimed the boat toward all that we could see. Chumming was not productive in mid-afternoon with calm winds. Later in early evening, chumming was much more successful with a light wind and hungry birds. The White-faced Storm-Petrel was along the shelf edge, just to the east of Hydrographer and was seen on Sunday morning, loosely associating with a raft of Wilson's. The Nantucket shoals had a great supply and variety of typical in-shore pelagic birds including a very close fly-by Leach's Storm-Petrel and all of the jaegers, terns, and gulls for the trip.
Non-bird Highlights – Perhaps more a highlight of this trip was the incredible show of marine wildlife. Every trip seems to produce a different experience, and this trip perhaps will become most famous for the incredible views and photo opportunities for whales, dolphins, sharks, fish, and Man o' wars! It looks like the trip recorded its first ever confirmed sighting of Cuvier's Beaked Whale, and photographers were able to get spectacular photos of Scalloped Hammerhead Shark and Tiger Shark! The glassy seas provided wonderful views and a rare experience not to be forgotten. When the Helen H first approached Hydrographer Canyon on Saturday, sharks, dolphins, and whales were EVERYWHERE!
Data Recording – Marshall Iliff did a great job in recording all bird sightings (and additional marine sightings) into eBird with roughly 1/2 hour intervals. These checklists will be shared. Photographers are also encouraged to enter their sightings in iNaturalist. Sea Mckon runs an inaturalist.org project called "Offshore Wildlife". Several participants have already entered their sightings. Photos can be submitted here.
Birds (total of all birds outside of Hyannis harbor)
Red-necked Phalarope – 69
Red Phalarope – 1 (identified later through photos)
Red/Red-necked Phalarope – 6
Pomarine Jaeger – 1
Parasitic Jaeger – 5 including 1 near adult dark morph.
Long-tailed/Parasitic Jaeger – 1
jaeger sp. – 1
Laughing Gull – 3
Ring-billed Gull – 1
Herring Gull – 22
Great Black-backed Gull – 11
Black Tern – 2
Roseate Tern – 2
Common Tern – 36
sterna tern sp. – 3
Wilson's Storm-Petrel – 1,987. Relatively high count offshore on shelf edge. Birds rafting in scattered flocks on calm ocean.
WHITE-FACED STORM-PETREL – 1. Thanks to Peter Flood for this clutch find. Fantastic views as we stayed on it for many minutes so that all got great looks of it! This rare species has now been recorded on the last 7 BBC Extreme pelagic trips and 9 out of the last 10!
Leach's Storm-Petrel – 53 including one very close flyby over the Nantucket shoals.
Hydrobates sp. (formerly Oceandodroma sp.) – 1 One possible
Band-rumped reported by leader, but no photos.
Cory's Shearwater – 28 (12 definitely borealis; no Scopoli's (C. d. diomedea) suspects, although we've recorded that ssp. on past trips)
Great Shearwater – 719
Sooty Shearwater – 72. Normally not common on this trip. This is the highest count.
Manx Shearwater – 22. Relatively high count for this trip.
AUDUBON'S SHEARWATER – 43. Nice numbers scattered along shelf edge. Molting adults and fresh juveniles noted.
black-and-white shearwater sp. – 1
shearwater sp. – 2
Northern Gannet – 3
Double-crested Cormorant – 42 including 2 seen well offshore on Nantucket shoals!
Osprey – 5
bird sp. – 1 (distant jaeger/tern)
Marine Mammals
Fin Whale – 1 plus two other large whale sp.
Minke Whale – 5
CUVIER'S BEAKED WHALE – 6 (!) Two pods of 3 each including incredible views of one very white backed individual presumed to be an older male in the first pod. These are very rare animals to see and this is the first time this species has been conclusive photographed on a BBC trip!
Pilot Whale (Short-finned/Long-finned) – 26. Hourly totals of 7, 12, and 7. Great views and experience.
Risso's Dolphin – 73. Hourly totals of 20, 4, 25, 6, 18. Stunning views and experience.
Bottlenose Dolphin (offshore) – 73. Hourly totals of 16, 21, 1, 7, 7, 6, 15. Stunning views and experience.
Common Dolphin – 110. Hourly totals of 15, 25, 10, and 60. Typical (awesome) views and experience.
Gray Seal – 1. Waiting for a handout at the Helen H slip when we returned to port (another seal offshore on Nantucket Shoals was not identified to species but more likely a Harbor)
Fish
Mako Shark (Isurus sp.) – 1
SCALLOPED HAMMERHEAD SHARK – 4! Stunning close views of hammer in the glassy seas! First time positively identified to species level with photos.
TIGER SHARK – 3! Great views just under the surface. Even showing the tiger stripes!
Blue Shark – 1. On Nantucket Shoals
Swordfish – 2. Caught by mates overnight and shared with birders. Thanks Matt! But no Yellowfin Tuna.
Atlantic Bonito – A few moderately sized schools of small mackerel like fish breaking surface and jumping. Possibly this species. Oddspot Midget (flying fish) – A small number of flying fish seen. One was nicely captured by Joe Bourget as this species: https://www.inaturalist.org/observations/90519162
Ocean Sunfish (Mola mola) – 2
CHILEAN DEVIL RAY (Mobula tarapacana) – 1. This sighting is similar to a couple of historic sightings on this trip of large brown rays that had remained unidentified. Thanks to marine biologist Sea McKeon, we think we're finally figuring it out. They appear to be rays in the genus Mobula which (now) includes the giant manta ray (Mobula birostris). There are roughly 11 species in this genus. The giant manta ray can be identified by the shape of the cephalic fins (horns) which are long and perpendicular as well as their large size and back coloration. The remaining 10 species can be difficult to identify and are sometimes group-named as "devil rays". Photographs for this individual have been tentatively identified on inaturalist.org as the brown colored Chilean Devil Ray (Mobula tarapacana). There are very few records this far north in the west Atlantic and this may be the first for Massachusetts. This species is known for their remarkable deep diving habits. https://www.inaturalist.org/observations/90576531 https://www.mantatrust.org/mobula-tarapacana https://www.smithsonianmag.com/science-nature/chilean-devil-rays-among-deepest-diving-animals-ocean-180951920/ https://europe.oceana.org/en/blog/meet-chilean-devil-ray
Sargassum Fish (Histrio histrio) – Noted in sargassum patch.
Invertebrates
Portuguese Man o' war – Not a jelly fish, but a siphonophore. Normally an uncommon sighting, they were extremely common on this trip with a total of at least 29 counted! Incredible views in the calm waters showing tentacles and accompanying fish. At least 3 types of unidentified fish photographed with them.
Northern Shorftfin Squid (Illex illebcebrosus)–caught by the crew overnight and mostly used as bait for Swordfish. https://www.inaturalist.org/observations/90616882
Sargassum Swimming Crab (Portunus sayi)– Crab photographed in patch of sargassum: on August 07, 2021 at 09:40 PM by John Garrett
Monarch – Two or three over Nantucket shoals.
Notable algae
Sargassum seaweed – Scattered patches along shelf edge and up on shelf in warm water.